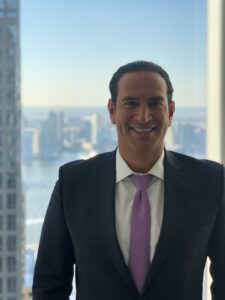 Adam Hochfelder, Principal, Turks Capital Partners
Turks Capital Partners ("TCP"), and its Principals, have owned some of the most luxurious real estate properties in the United States and around the world. The firm and its principals have acquired over $6 billion in real estate since 1996.  Portfolio properties include Hotels, Residential Condominiums and Office Buildings including but not limited to: 230 Park Avenue, 485 Fifth Avenue, 350 Madison Avenue, the Z Hotel in Long Island City, 1440 Broadway, 260 Park Avenue South Luxury Condominium, Cachet Cabo Hotel & Resort in Cabo San Lucas, Mexico, the Aruba Starwood Hotel & Casino, the Cachet Hotel in NYC, Cachet Shaoxing Hotel in China, and 237 Park Avenue to name a few.
Turks Capital is a privately held investment firm dedicated to investing in high-quality real estate including equity investments and funding loans.  Turks Capital seeks to generate absolute returns with low volatility by exploiting inefficiencies in various asset classes and certain markets while capitalizing on opportunities that are not broadly marketed.
Turks Capital's large seasoned team of dedicated professionals seeks to deliver consistent, positive returns in all market environments.  The hallmark of Turks Capital is the intensive research by its breadth of talent which allows the team to have confidence in making investment decisions.
Adam Hochfelder, a Turks Capital Principal, is an American real estate executive who co-founded the real estate firm Max Capital in 1996. Max Capital had ownership stakes in 8 million square feet (740,000 m2) of office space, including the Helmsley Building and the Conde Nast Building.  His portfolio was valued at over $4 billion. Some of the nation's largest institutions have invested, and continue to invest, side by side with Hochfelder and Turks Capital including JP Morgan, Citigroup, Wells Fargo, Goldman Sachs, Credit Suisse, and Fidelity. Hochfelder is known as the "Wharton Whiz Kid" for his ability to financially structure and acquire some of NYC's largest properties which helped him generate multimillion-dollar deals.
Hochfelder and his partners, the Bass Family, acquired 230 Park Avenue for $300 million. This tower was a former Helmsley property. Later, Dubai Fund NCO bought the property for $705 million.
Hochfelder and Bass purchased 1440 Broadway near Times Square for $152 million.
Adam Hochfelder and the Carlyle Group successfully acquired the 185,000 square foot Tommy Hilfiger Building at 485 Fifth Avenue for $88 million and developed this property into NYC's first Hyatt Andaz.
Hochfelder and his partner Credit Suisse acquired multiple office and residential buildings in New York and Chicago for $740 million.
Hochfelder and CitiGroup purchased 237 Park Avenue for $455 million. The same year, Hochfelder partnered with Lone Star Fund from Texas investors to pay $320 million to acquire over 450 West 33rd Street, home to the Daily News and the Associated Press.
In 2013, Hochfelder and his partners contracted to acquire 1619 Broadway Brill Building, a $185 Million Retail and Office Building in Times Square.  Later that year, they sold it for $250 million.
In 2015, Hochfelder acquired and developed a $110 million assemblage of 1802-1810 Second Avenue, which is slated to be Manhattan's first super-luxury Senior Living Facility.
In 2017, Hochfelder and Roche Enterprises acquired and developed a 105 Room Hotel in Hudson Yards North which is now home to Cachet Hotel NYC.
In 2018, Hochfelder and his partners acquired the Z Hotel, a 100 Room waterfront hotel in Long Island City overlooking Manhattan.
In the Caribbean, Hochfelder and Wachovia (now Wells Fargo) acquired the Starwood Aruba Resort and Casino in the Caribbean from Oswaldo Cisneros, CEO of Pepsico South America.
Adam Hochfelder graduated from the University of Pennsylvania's Wharton School of Business in 1993 and began his professional career while he was still studying. Mr. Hochfelder began his professional career as an intern at a major real-estate services company. Hochfelder quickly achieved success in the estate world and was named the 'Wharton Whiz Kid' by Crains New York. In no time at all, his company was not only competing but outplaying some of NYC's most powerful landlords. The newly found success earned him the nickname "the wunderkind of New York real estate".
In 1998 Hochfelder became one of the youngest people ever chosen to serve on the Real Estate Board of New York, and just two years later, he was appointed to serve on NYC's Economic Development Committee by Mayor Michael Bloomberg. Hochfelder was invited to join the NYC's bid committee for bringing the 2012 Summer Olympics to New York by Deputy Mayor Dan Doctoroff.
Adam Hochfelder has been honored by multiple National Charities for his philanthropic endeavors. He founded and funded the development of the NYC Parenting Center at the 92nd Street Y which helps first-time mothers in need. He has also helped develop low-income housing in New York and Philadelphia and has been an integral part of the development of various youth sports foundations. In 2017, Mr. Hochfelder was the recipient of The People Who THRIVE Award for his outstanding community service in NYC.
One of TCP's portfolio companies, Cachet Hotels & Resorts, is a Hong Kong-based hotel company that specializes in hotel acquisitions and development. Drawing on the 75 years of hospitality experience within its senior management team, and placing innovation, luxury, and social responsibility at the core of its business model, Cachet Hotels & Resorts redefines hospitality excellence. Cachet Hotels and Resorts properties are located worldwide including Shanghai, New York, Cabo San Lucas, Phuket Thailand and Cachet's Luxury Golf Resort Sand Hollow in Utah.